Transporting Horse Trailers
Do you need a horse trailer transported?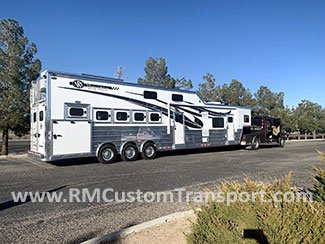 We are licensed, Insured, and have the permits to move your load safely and legally. We hire pilot cars to escort us, if needed.
If you have purchased a new or used horse trailer we can help with your transportation needs.
We are able to pull using many different types of hitches including fifth wheel, bumper, gooseneck, and various types of ball hitches.
Please give us a call today for a quote.
We are happy to assist with your transport needs! Please call or email with any questions.